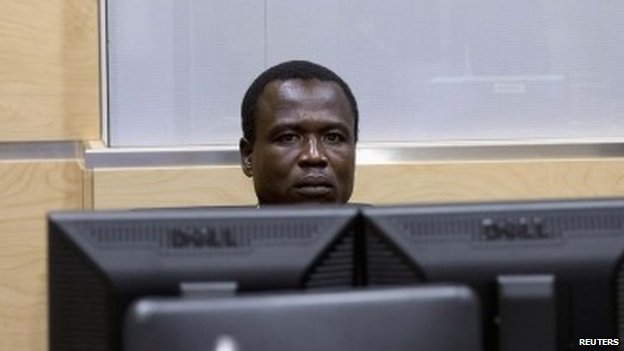 Lord's Resistance Army (LRA) rebel commander Dominic Ongwen has today appeared at the International Criminal Court(ICC) in The Hague to face war crimes charges.
He is accused of four war crimes counts and three of crimes against humanity, including murder and enslavement, allegedly committed in Northern Uganda in 2004.
His trial will be the first time that a member of the LRA has faced international justice.
The LRA is accused of seizing children to use as fighters and sex slaves.
Ongwen's lawyer Helene Cissy has said he was forced to stay in the bush for 20 years, no access to any education.
Judge Ecaterina Trendafilova has commended Ongwen for the good conduct so far and set the Status conference for 28th February 2015, while confirmation hearing is set for August 24th 2015.
The pre-trial session was meant to among other things; confirm Ongwen's identity, read out the charges to him and also confirm the language in which to conduct the trial.
Mr Ongwen wore a blue suit, white shirt and chequered tie in court. He identified himself as born in Gulu in northern Uganda in 1975.
"I was abducted in 1988 and I was taken to the bush when I was 14 years old," he said in Acholi, the language widely spoken in northern Uganda. "Prior to my arrival at court I was a soldier in the LRA."
Mr Ongwen was arrested after giving himself up in the Central African Republic last month. Last week he was delivered to the ICC.
The ICC Chief prosecutor Fatou Bensouda said earlier that Ongwen's transfer " to the Hague brings them one step closer to ending the LRA's reign of terror".
Ironically the Uganda government agreed to an ICC trial for Mr Ongwen despite being a fierce critic of The Hague-based court.
Mr Ongwen is believed to be the deputy to LRA commander Joseph Kony, who is still on the run.