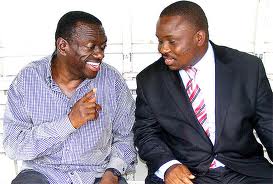 All is not well for opposition leaders Dr Kiiza Besigye and Erias Lukwago.
Court has this morning upheld charges of unlawful society labeled against them.
Buganda Road Court Grade One Magistrate, Julius Borore said that although the accused were held beyond the 48 hours stated in the constitution, the defense lawyers failed to prove that the charges are a nullity.
The magistrate has now set tomorrow as the hearing date for the cases said to have been committed in 2013 in different places in Kampala.
The ruling did not go down well with the defendants who have now resolved to head to the Constitutional Court for interpretation.