By Judith Atim and Ali Mivule
Kampala Lord Mayor Erias Lukwago has spoken out against the ongoing demolition of stalls at park yard market in downtown Kampala describing it as a ploy by the government to grab land.
"We are doing our best to challenge the directive and I have called for a council meeting at 10am to review that decision and take drastic measures against the minister.
On the 7th February, Kamya issued the directive through Council, giving the traders 30 days to vacate. However, the demolition has started ten days before the deadline.
Lukwago has also questioned the motive behind the many redevelopments in the city.
"This is just a matter of land grabbing, just like the commission of inquiry that has been set up to probe land matters in Uganda, Museveni and his government are all out to grab land," Lukwago added.
Meanwhile, Traders at park yard market are crestfallen following the early morning demolition exercise.
Many had to leave the comfort of their homes at 2 am after receiving phone calls from friends informing them of the impending demolition exercise, which started two hours later.
They braved the heavy downpour in attempts to salvage whatever they could from their stalls, which are now sitting in a pile of rubble.
Patrick Balibuuza one of the affected traders had no kind words for the government and in particular the president.
"Our children are going to suffer because of your actions but karma is real Mr. President your children will also suffer one day," He mourned
With vendors crying and pondering their next move, it was also a golden opportunity for some goons who took advantage of the growing chaos and looted some of the merchandise that had been thrown out of the stalls.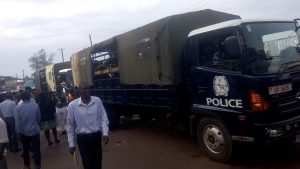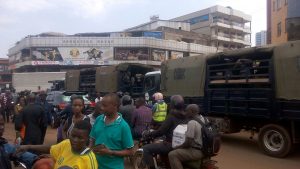 PIC! Heavy deployment at park yard!