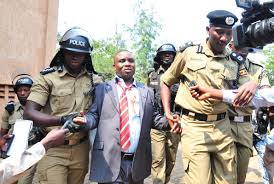 City Lord Mayor Erias Lukwago has been arrested.
Lukwago was attempting to leave his house in Wakaliga a short while ago to attend an opposition consultative meeting.
The opposition leaders were planning to hold a rally at Katwe this afternoon to discuss the forthcoming city mayoral by election with their constituents.
However, the police swung into action, deploying heavily at the homes of the leaders.
The was a scuffle between Lukwago and Sam Omala the police operations commander for Kampala.
Lukwago has now been taken to Jinja road police station.
Meanwhile, at Kasangati, the police are searching all those going to and leaving Dr. Kiiza Besigye's home.
There was a scuffle when the officers tried to block the wife to Dr Besigye, Winnie Byanyima.
She was however later allowed to leave her home after a thorough search.
This according to Dr Besigye is a violation of the right to privacy. Besigye is till at his home and says he has no plans of going out today.
The police have meanwhile defended the decision to camp at the homes of opposition leaders Kiiza Besigye and Erias Lukwago.
DPC Kasangati police station James Kawalya says this was done to avoid any chaos in the city.