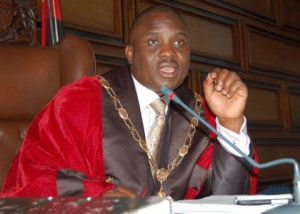 Elias Lukwago's joy may be short-lived.
This is after the Court of Appeal overturned the Constitutional Court ruling reinstating Erias Lukwago as Lord Mayor.
Justice Steven Kavuma of the Court of Appeal has issued a temporary injunction staying Justice Lydia Mugambe's ruling that saw Lukwago reinstated, ordering that he keeps out of office until the main application challenging his removal from office is disposed of.
In his submission, the Attorney General said that he was dissatisfied with the Friday ruling that saw Lukwago bounce back to office today.
The case was heard without a representative from Lukwago's side.
Efforts to get a comment from the lord mayor's legal team have been so far been futile but information reaching our news desk indicates that they are locked up in a meeting.
Earlier this morning Lukwago reclaimed his office, raising a peace flag.
He led a procession from his home in Wakaliga to City Hall accompanied by his deputy Sulaiman Kidandala and councilor Sewanyana.
This is the first time that the lord mayor is accessing city hall since 25th November last year.
On Friday, the High Court ruled that the Lukwago is still the lord mayor stopping the electoral commission from conducting any by-election to replace him.
Addressing a news conference a short while ago, Lukwago has said that it is time to work, calling for unity for the good of the city.
It now remains to be seen what his next move will be.