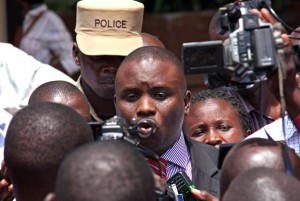 It is all jubilation for city lord mayor Erias Lukwago after the High Court halted the mayoral by-election.
Speaking shortly after the judgment was delivered by Justice Lydia Mugambe, Lukwago said he was ready to work with anyone who respects the law.
He says he will return to his office on Monday morning.
Lukwago adds that this is a big victory for all the people of Kampala and he is to organized a big celebration for all city dwellers
MPs Medard Lubega Sseggona and Muhamed Nsereko have also welcomed the judgment saying it was long overdue;