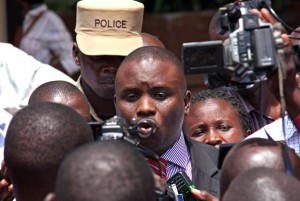 Embattled Lord Mayor continues with the struggle to secure a date for the hearing of his appeal before the Supreme Court.
Erias Lukwago has today joined his lawyers at the Supreme Court for the second day but all their efforts were in vain.
Accompanied by one of his lawyers Abdullah Kiwanuuka, his deputy Sulaiman Kidandala and councilor Allan Sewanyana, Lukwago says he will not rest until his case is fixed for hearing.
In an application filed on Tuesday, he seeks an order re-instating him as lord mayor and also block the pending by-elections to replace him.