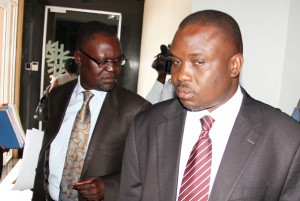 The Supreme Court has finally set a date for the hearing of an appeal filed by embattled Lord Mayor Erias Lukwago.
The five justices led by Bart Katureebe will on 11th– April begin hearing the application in which the lord mayor challenges the ruling by the court of appeal judge Steven Kavuma.
Lukwago wants the Supreme Court to overturn the ruling that threw him out of office after he was reinstated on orders of the high court
He also wants court to affirm that he is the lord mayor and that he be allowed to do his work.
In the same vein, Lukwago wants the Supreme Court to issue an order stopping elections to fill his position.
Lukwago has been entangled in court battles after the tribunal report by justice Mpagi Bamugemereire convicted him of incompetence