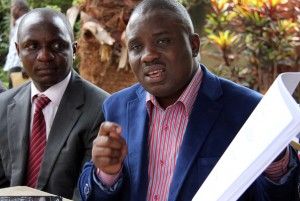 City Lord Mayor Erias Lukwago is not about to give up the struggle to get back to his office.
Just hours after he was released, he is at it again.
He has released a new plan at a news conference vowing to march to his office at City hall come Tuesday next week.
This is after the police blocked his earlier meeting with other opposition leaders at the Justice Forum offices in Mengo that was meant to discuss his return to office.
Lukwago and several other opposition leaders including FDC's Kiiza Besigye were arrested yesterday and released last evening.
Lukwago was impeached in November last year by city councilors over alleged incompetence, a decision that was overruled by court.