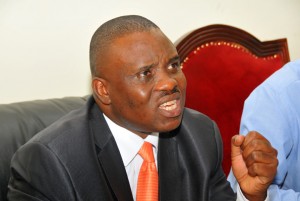 The police have this morning served the lord mayor a notice stopping his planned meeting in town today.
Erias Lukwago is today expected to address a Kampala stakeholders meeting at St Matia Mulumba church in Old Kampala. The notice was delivered to the lord mayor's home in Wakaliga by the DPC old Kampala, Joram Mwesigwa. He maintains that the mayor's meeting is illegal.
Earlier the police deputy spokesperson Patrick Onyango said they had sought advice from the Attorney General who said Lukwago currently holds no position at the city authority and therefore cannot hold any such meeting.
The consultative meeting organized by the Kampala Lord Mayor Erias Lukwago was scheduled to take place this afternoon to among other things; seek to address the disagreements at city hall and the entire management of the city.
Lukwago was impeached in November last year over alleged incompetence following recommendations by the 3-man tribunal that was set up to investigate Lukwago's operations.