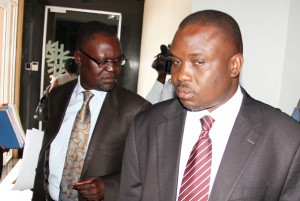 The case in which the embattled city lord mayor is challenging his removal from office has been adjourned to February 4th.
The case has been pushed forward by the High Court Registrar Alex Ajiji because the trial judge Yasin Nyanzi is away in Zanzibar on official duty.
The judge was meant to decide on whether or not to disqualify himself from presiding over the case as asked earlier by the Attorney General.
On January 15th the Attorney General represented by Martin Mwangushya asked High Court Judge Yasin Nyanzi to step aside because he is likely to be biased.
Mwangusha argues that Nyanzi issued the interim order reinstating Erias Lukwago as city lord mayor following his impeachment so he is likely to be biased in his judgement.