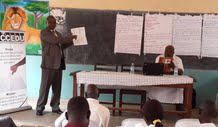 Election observers have embarked on training volunteers who will monitor the forthcoming by- election in Luweero district.
The coordinator Citizen's Coalition for Electoral Democracy in Uganda Crispy Kaheru says 45 people including journalists are currently undergoing training.
Kaheru says this is intended to help community observers understand the electoral cycle and how a free and fair election can be managed.
The May 22nd by election was called after , the Court of Appeal upheld a high court ruling in March 2014 that the Luwero District Woman MP, Hon. Brenda Nabukenya leaves parliament on grounds that the Electoral Commission(EC) didn't comply with electoral laws in November 2011 when Nabukenya's rival Rebecca Nalwanga sought for a mandatory vote recount which the EC denied.
Following the declaration of the vacancy, the Electoral Commission appointed 22nd May 2014 as the date to conduct the by-election to fill the Luwero District Woman MP seat.
Four candidates were last week nominated by the Electoral Commission to contest in the by-election.
These are: Rebecca Balwana Nalwanga (NRM), Brenda Nabukenya (DP) and independents Ramila Kadala and Faridah Namubiru.
Alongside the MP seat elections, the EC will also conduct elections for both the Chairperson for Kikyusa Sub County and the Councilor for the Luwero Town Council.