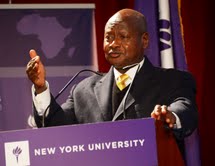 European powers should not encourage President Joseph Kabila of the Democratic Republic of Congo to ignore his opponents.
President Yoweri Museveni warns that they risk becoming part of the problem rather than the solution.
The President was meeting the Belgian Deputy Prime Minister and Minister of Foreign Affairs Didier Reynders and the Minister for Development and Cooperation Jean Pascal Labille at the Waldorf Astoria Hotel in New York.
He said the European powers were blocking the ongoing peace process.
He cited the arrest of Jean-Pierre Bemba, Thomas Lubanga and Bosco Ntaganda, all are under the ICC in the Hague.
The President who is in New York for the 68th United Nations General Assembly was however, optimistic that the Kampala talks meant to resolve the conflict in the Eastern DRC were on track, saying they have dealt with most of the contentious issues except integration.