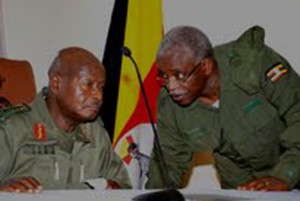 President Yoweri Museveni has hailed his Congolese counterpart Joseph Kabila for successfully flashing out the ADF rebels.
Sspeaking on the sidelines of the ongoing NRM caucus retreat in Kyankwanzi, Museveni said the DRC army operations had overrun the headquarters of the ADF in the Eastern Region.
Recently the Democratic Republic of Congo forces attacked Ugandan Islamist rebels in the lawless east, launching an U.N-backed offensive to clear insurgents from the mineral-rich zone.
The president also pointed to another rebel movement, M23 that had been operating in the south of Beni which was defeated late last year.