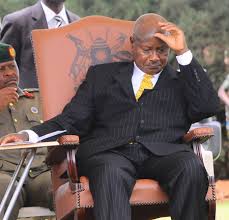 There is still room for internal discussions before endorsing president Yoweri Museveni to as NRM presidential flag bearer in 2016.
This is according to the minister without portfolio who is also in charge of political mobilization Richard Tadwong who was speaking to journalists over the proposal by NRM caucus.
Tadwong says the decision by the caucus cannot be final because there are other procedures to be followed by the party.
He says that a final decision will be taken by all the relevant party organs, calling upon whoever is interested in contesting for presidency against the Museveni to come out.
Meanwhile, Western Youth MP Gerald Karuhanga has said that the endorsement of President  Museveni as the NRM party flag bearer in 2016 is a show of no confidence in the internal mechanisms of the party.
MPs Evelyn Anite, John Ssimbwa and Barbara Nekesa are said to have mooted the idea, which will see the President seek a 5th term in office.
However, Karuhanga says the move is undemocratic and aimed at eliminating possible contenders within the party to vie for the presidency.