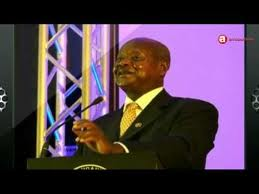 President Museveni's Mpenkoni rap song has been cleared.
The registry of copyrights has allowed President Yoweri Museveni to get copyright for his "You want another rap" song aka Mpenkoni.
Two Makerere University lecturers Mwambusya Ndebesa and Dr. Deo Nzarwa had objected to Museveni's copyright application claiming it would infringe on the rights of Banyankole and Bakinga to enjoy the folk riddle from which the head of State derived his famous 2010 campaign song.
However, the assistant registrar Mercy Kyomugasho has dismissed the objection saying President Museveni has no intension of monopolizing the heritage of the 2 tribes but has only improved the riddle into a modern song giving it a touch of rap to benefit the young generation as well.
The registrar's decision implies that the president can now go ahead and enjoy his rap song.