By Ssebuliba Samuel. 
The president of Tanzanian Dr John Pombe Magufuli has asked the government of Uganda to expedite the process of constructing oil pipeline in the shortest time possible instead of waiting until 2020 as scheduled.
Speaking to  during his visit in Mutukula –Kyotera  on the going Commissioning of the  One Stop Border Post as well as laying a cross-border mark-stone for the East African Crude Oil Pipeline, Magufuli said that there is need to wait until 2020 for Uganda to start enjoying proceeds of oil.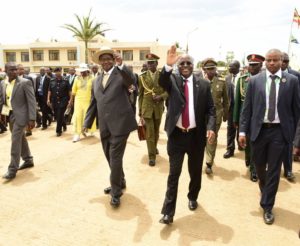 He said that Uganda must work with ready investors to have this process expedited instead of waiting for 2020 since all sectors are ready.
This 1,445 km-project set for completion by 2020 at a cost of $3.55 billion