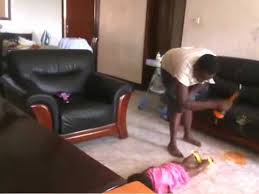 The domestic worker who tortured a toddler has also accused her master of torture.
Speaking before Buganda Road Court after pleading guilty to fresh assault charges, Jolly Tumuhirwe said that Mbabazi Kamanzi used to beat her up before going to work.
Tumuhirwe cited an incident where she pleaded to Mbabazi to give her transport back to her sister in vain.
Meanwhile the father of the victim, Eric Kamanzi has asked court to give Tumuhiiwe the maximum sentence of five years for inflicting pain and injuries on his daughter.
Kamanzi said the maid had tortured the child more than once and should be kept away from society.
Buganda Road Chief Magistrate Lilian Buchana has now pushed the case to 15th of December for sentencing of the accused.
Earlier, the director of Public Prosecutiosn dropped charges of torture against Tumuhirwe and instead settled for assault that attracts a maximum sentence of 5 years.