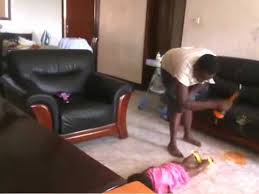 The case against a domestic worker who pleaded guilty to torturing a toddler has now taken a new twist.
Jolly Tumuhiirwe's case has now been referred to Buganda Coad Court.
State prosecutor Miriam Njuki has informed court that her file had been transferred to Buganda Road Court for more facts.
Tumuhiirwe appeared this morning before City Hall Court Grade One Magistrate Moses Nabende who has now adjourned the case to December 15th.
She pleaded guilty on Monday and asked for forgiveness from the child's parents, the public and court.
Defence Lawyer Ladislus Rwakafuuzi says Tumuhiirwe had earlier taken plea before a court that did not jurisdiction to handle the case.
The maid was secretly caught on CCTV camera by the child's parents after the found her limping and having bruises.
In the video that went viral on social media, Tumuhiirwe is seen forcefully feeding a baby, before beating her up, kicking and stepping on her back, an act that has widely been condemned.