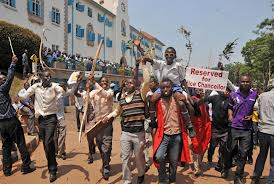 Makerere University council has extended the deadline for tuition payment to the 22nd March.
The university had earlier set 8th March as the deadline for all students to pay full amounts or ateast 60% of their tuition.
The decision follows a petition by student leaders after a group of students went on strike demonstrating over the 60% tuition policy.
Addressin journalists at makerere the university Vice chancellor Prof John Ddumba Ssentamu says no money will be accepted after this extension.
He also says the 60% policy requiring all students to pay within the first 6 weeks of a semester will remain as he explains.
Sound Ssentamu on 60%
Students recently went on strike destroying property in and outside campus.