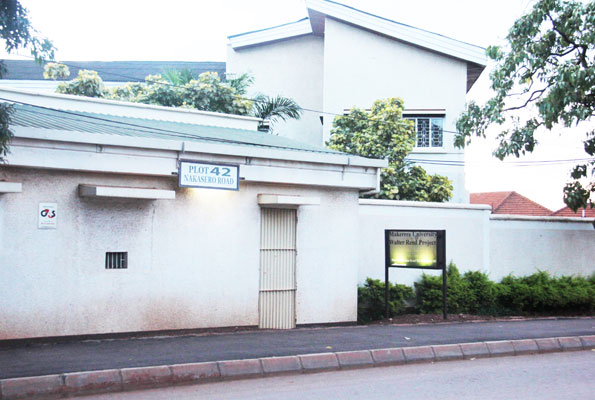 Police yesterday alleged that the now closed Makerere University Walter Reed Project (MUWRP) actively recruited and trained homosexuals.
A spokesperson for the United States Embassy in Kampala, the project funders, however, dismissed the police account as "fabrications".
In the first formal statement on last week's police raid on the project's offices in Nakasero, an upscale city suburb, the Force's spokesperson, Mr Fred Enanga, said they have "evidence" the project managers enlisted and paid young males aged 18-25 to engage in "unnatural sex".
"Police deployed crime intelligence officers to verify the claims, by infiltrating the project. Two officers undertook the assignment and were registered for training by the NGO and found out that the trainees were being shown videos of men engaging in homosexual activity," he said in a statement issued yesterday.
Police evidence
"The training targeted youth between the ages of 18 and 25. The trainees were shown videos of men engaging in homosexual activity, and they were encouraged to bring along their sexual partners. The trainees were further given literature describing safe sexual practice between males, as well as condoms and lubricants."
The Force has previously denied its officers raided Walter Reed offices. Responding to these allegations yesterday, the public affairs officer at the US Kampala Mission, Mr Daniel Travis, said the police account was baseless and spurious.
"The assertions about events occurring on April 4 are patently false since MUWRP was closed that day and has since remained closed," he said. Detectives had claimed that same-sex pornographic films were screened to a large audience of youthful spectators, who were subsequently paid between Shs10,000 and Shs100,000 as transport refund. They were encouraged to return with their partners, police said in yesterday's statement, without explaining the purpose.
"Without clear, detailed and authoritative guidance from the government about how critical health programmes such as MUWRP can continue to serve all Ugandans, its future, as well as the future of many of our other health programmes, is in jeopardy," Mr Travis noted.
Relations between the US and Uganda government, which have been warm and mutually beneficial, got strained in February this year when President Museveni spurned a warning by President Barack Obama not to sign the anti-gay law.
The World Bank, Norway, Sweden and the Netherlands, in protest over the law, have either withheld or diverted in excess of $110 million in planned budget support.
Mr Travis yesterday said the passage of the law "has seriously complicated our bilateral relationship with Uganda, just as President Obama said it would".
Meanwhile, the police said inquiries in the Walter Reed case have been transferred from Jinja Road Police Station where it was opened to the CIID headquarters in Kibuli, a Kampala suburb.
Last week, the Force described their officers that arrested a senior employee of MUWRP as "masqueraders."
SOURCE: monitor.co.ug