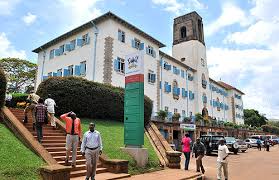 Makerere University Kampala has been dragged to High Court by two members of the senior administrative staff for allegedly holding illegal council elections.
In a case filed before the High Court- Civil Division, Bennet Magara and Henry Amanya claim Makerere University Administrative Staff Association and its General Secretary, Dr Euzobia Baine held illegal elections.
The plaintiffs contend that on November 3, 2014, the University Secretary/Secretary to the university council wrote to Dr Baine requesting her to conduct elections of a representative of Senior Administrative Staff on the University council.
It's alleged that on November 21, 2014, the plaintiffs' lawyers wrote to the deputy VC (Finance and Administration) requesting him to halt the election for want of forum and proper procedure having highlighted the legal requirements for conducting proper and lawful elections, which was ignored.
The plaintiffs also want court to issue a permanent injunction barring Dr Baine from holding office, orders for general damages, interest and costs of the suit.
The defendants have been ordered to file defence within fifteen days.
Story by Ruth Anderah