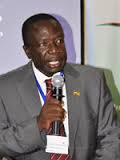 Makerere University is to be reopened on September 7th.
The announcement has been made by the university council chairman Charles Wana Etyem at a meeting held this afternoon between the university council, lecturers and student leaders.
Earlier today, the lecturers suspended their strike after the council promised to effect the new changes in their allowance pay on September 30th.
One of the resolutions is that the 70% increase in the lecturers' pay takes effect on September 30th.
According to the association chairman Mohammed Kiggundu, the increments have been described as mere incentives for the lecturers as negotiations with government continue over their demands for a 100% pay rise.
Kigundu says according to the new rates, professors will now earn Sh 5,900,000 up from Sh 3,480,000.
An associate professor will now earn Sh 5,710,000, up from Sh 3,360,000.
Senior lecturers will get Sh 4,860,000, up from Sh 2,860,000, while other support staff who have been earning Sh248,000 will now bag Sh.420,000.
Kiggundu also explains that the association and the university management have agreed to have the arrears for July and August paid after the first six weeks of the next semester.
The dons had laid down their tools demanding a 100% pay rise.
They however, say that they are still pressing on with their demands as negotiations with government continue.
According to Prof Etyem, orientation of new students will be done from September 7th -13th.
Teaching will resume on September 14th before breaking off for the Christmas holiday from December 21st to 29th.