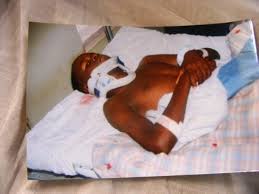 Shock has gripped residents of Kikalamoja zone in Jinja town after a 30 year old man identified as Moses Alamakoli beheaded his 10 year old daughter identified as Ann Alamakoli.
According to the aye whiteness, the man used a sharp machete to chop off the child's head.
He then went on to cut another child aged 13, who fortunately managed to escape with serious injuries and is currently admitted at Jinja referral hospital.
His neighbors explained that the man had been away for a while, but when he returned, he did not find his wife.
Suspecting his wife of being unfaithful, Alamakoli instead turned his anger on the children.
John Mwiru the Local Council 3 chairperson said that that police have arrested the man who also attempted to commit suicide and he is now being held at the Jinja Central Police Station as investigations proceed.