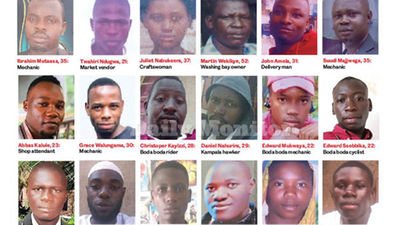 More than half of the people shot dead during last November's protests were aged 14 to 30, according to our analysis based on accounts by relatives, friends and local leaders.
Nearly a dozen of the 54 victims confirmed by the government were in the productive 30 to 50-year age bracket.
Among the deceased were two septuagenarians; retired Uganda Management Institute lecturer John Kittobbe gunned on Kampala Road and Hajat Maliyati Nassanga, who suffocated to death of teargas while in admission at a clinic in Nyendo, Masaka City.
In interviews over two weeks, relatives and friends recounted the final hours of the victims and how each met their death. We today start serialising the accounts, which bring to life the unique story of each victim hitherto treated as statistics.
Our investigations show that security forces, whom witnesses identified by their uniforms and insignia to belong to UPDF, police and Local Defence Unit (LDU), allegedly shot at least a dozen of the victims in the head.
Bullets caught half-a-dozen in the stomach, a similar number were shot in the neck while about 10 took bullets in the rib cage, chest and back.
At least three of the lethal shots were directly attributed to men in plain clothes, part of many that fanned out with assault rifles onto city streets and neighbourhoods to quell the two-day protests. No security organ has owned them.
Mr Charles Twine, the spokesperson of Police's Criminal Investigations Directorate (CID), who spoke to us on referral by Police spokesperson Fred Enanga, yesterday said inquiries into the November 2020 "murders" are underway but "not all acts" in the stray shootings "are crimes."
"We are steadily progressing [with investigations] …We are doing it alongside other cases that are committed every day. It is not something that we can expedite given the nature of our manpower…," Mr Twine said by telephone.
About 30 of the victims were shot in Kampala and a dozen in the neighbouring Wakiso, which were epicentres of the violent demonstrations, sparked by the November 18 arrest in the eastern Luuka District of National Unity Platform (NUP) presidential candidate Robert Kyagulanyi, aka Bobi Wine.
Read more: https://www.monitor.co.ug/uganda/special-reports/many-protest-victims-were-below-30-years-says-survey-3246742