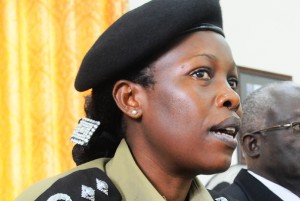 The police have hit back at the opposition over allegations of oppression.
Several rallies organized by opposition leaders together with the civil society on promotion of electoral reforms have been blocked in Kasese, Kabaale, Soroti and Mbaale on claims that the organizers did not follow the procedures stipulated in the Public Order Management Act.
According to members of the opposition, this kind of mistreatment is meant to deny them the right to assemble which contravenes the constitution.
However speaking to the media today the police spokesperson Judith Nabakooba said that no legally organized rally has been interrupted, rubbishing the allegations as totally baseless.
Earlier today, opposition leaders and members of the civil society  led by Democratic Party president Norbert Mao asked the police to stop referring to the Public Order Management Act which is not yet in force.
He said the Internal Affairs minister Aronda Nyakairima was yet to set a date when the act should be effected.
Mao said that so far there is no statutory instrument from the minister and the police are acting outside the law.
He was speaking in relation to the recent clashes between the police, the opposition leaders and members of civil society which saw their rallies blocked in Soroti, Mabale, and Kabale among other places.