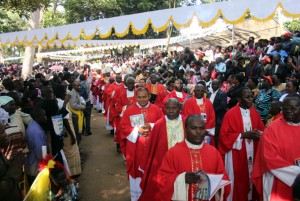 Christians have been asked not to underestimate the role played by the Uganda martyrs in Unifying Africa.
Addressing believers during mass to celebrate martyrs' day at Namugongo shrine this afternoon, President Yoweri Museveni said this is seen in the number of countries that take part in the annual celebrations
Hundreds of pilgrims have travelled from countries like Malawi, Tanzania, Kenya, South Sudan, DR Congo, Rwanda, Burundi and Nigeria.
Meanwhile, the Arch Bishop of Kampala Arch Diocese Cyprian Kizito Lwanga has called for the release of the over 200 Nigerian school girls abducted by the Boko Haram militants.
He was addressing the congregation at a mass to celebrate martyrs' day at the Namugongo shrine this afternoon.
He however regretted the death of one of the pilgrims from Lira diocese who died on the way to Namugongo.
At the Anglican Shrine, the Arch Bishop of the Church of Uganda, Stanley Ntagali has urged Christians to make a contribution towards construction of the martyrs' museum to help impart knowledge to the young generation
 Earlier, parents were advised to teach good morals to their children so as to build a strong foundation for Christianity.
Giving his Martyrs day speech Uganda Christian University Vice Chancellor Rev.John Ssenyonyi said the martyrs died for their faith because they had a strong moral foundation.
He also maintains that the university will continue expelling pregnant female students except those that are legally married.
Uganda Christian University is among several institutions that recently came under fire from rights activists for expelling pregnant students.
In another development, the police in Namugongo have arrested 30 suspected criminals. Those arrested include pick pockets and drunkards.
Speaking to kfm, the deputy police spokesperson Polly Namaye said that so far the day has been peaceful with no major incidences recorded since yesterday.
Several pilgrims have been injured in an accident that occurred at Busika in Luweero district.
According to some of the survivors who have been admitted at Mulago hospital, they were over 40 of them travelling on a lorry when its driver lost control and it over turned several times.
They were traveling from Luweero to Namugongo.
Some of them have been identified as Sheem Kawoya, Yafesi Kasinge a farmer and Alex Kalyango among others.