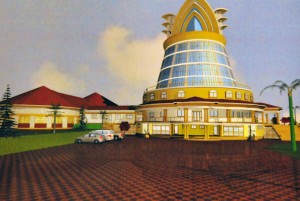 The construction of the multi- billion Namugongo Martyrs' museum has taken off amid preparations for the forth coming Uganda martyrs Day celebrations.
Currently the construction is still at foundation level, while building of permanent seats for pilgrims is also on course.
Rev. Canon Henry Segawa the Principal Uganda Martyrs Seminary says this is meant to show pilgrims the progress made so far with the multibillion project and comprehensive plans for the church.
He however explains that some projects may not be finished by 3rd June but their progress will raise hopes for Anglican Church to conduct more fundraising drives.
The Catholic Church is also considering the possibility of constructing dormitories at Namugongo shrines to accommodate pilgrims.
The move comes as pilgrims start gathering at Namugongo from in and outside the country ahead of the martyr's day celebrations next week.
The promoter of the martyrs' devotion Fr.Joseph Muwonge says pilgrims are now sleeping in some of the sacred places which demean their importance.
Meanwhile,  the second group of pilgrims trekking from Mubende to Namugongo for the Martyrs' Day celebrations has been flagged off this morning.
The group of over 100 is led by the deputy town clerk Frank Mpewo and has been joined by another of about 500 other pilgrims from Rwenzori who arrived in Mubende yesterday.
These will join the hundreds that have already pitched camp at the holy shrine.
Flagging off the group this morning, Father Ronald Ssevume hailed the pilgrims from their courage;