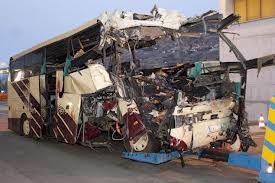 Two people have died in an accident that occurred this morning along Masaka-Mbarara high way.
The accident involved a Kampala Coaches Bus registration number KBN 902F that was moving from Nairobi to Kigali, Rwanda.
The Regional Traffic Officer Rwizi Patrick Mungasa says one of the deceased was the driver of the bus only identified as Kango a Tanzanian national and a female adult whose identity is yet to be established.
Mungasa says preliminary findings reveal that the driver was fatigued of fatigue that led him lost control of the bus thus swerving off the road and over turned several times leaving eighteen passengers with serious bodily injuries.
Mungasa says the injured are receiving treatment at Mbarara Regional Referral Hospital while the bodies of the deceased are lying at the referral mortuary.