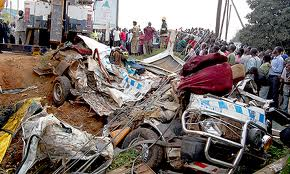 Three people have died in an accident that occurred this afternoon along the Kampala- Masaka road.
The accident that occurred at Kayabwe near Nkozi involved a Land Cruiser and a milk truck whose registration numbers are yet to be established.
The deceased were all travelling in the Land Cruiser when it collided head-on with Kampala–bound milk truck.
According to Gen. Elly Tuwmine who was also an eye witness, the dead have been identified as George Huchingson, and Stephen Bradford both American citizens from Georgia and Virginia respectively.
The other is Joseph Muwonge who was the driver.
According to our reporter Chris Obore who was at the scene, all the occupants of the milk truck have escaped.
An unidentified woman had been trapped in the wreckage but she was able to escape shortly after she was rescued