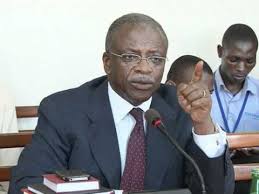 Clear your names before the disciplinary committee, says the Secretary General to the errant NRM Members of Parliament.
Amama Mbabazi, also the Prime Minister says the 4 MPs must appear before the party's disciplinary committee to clear their names.
Lwemiyaga MP, Theodore Ssekikubo, Wilfred Niwagaba of Ndorwa East, Buyaga West MP, Barnabas Tinkasiimire and Kampala Central MP, Mohamed Nsereko are accused of violating the party's code of conduct by defying party positions in Parliament.
They are also accused of and hobnobbing with members of the opposition.
Speaking to KFM earlier today, Mbabazi said the 4 MPs should appear and defend themselves against the allegations and if they believe they are innocent, it is an opportune time for them to clear the air.
The committee is expected to sit tomorrow at the Serena hotel.
Some of them have however vowed not appear, saying they have challenged the powers of the committee and are awaiting a High Court ruling on the same