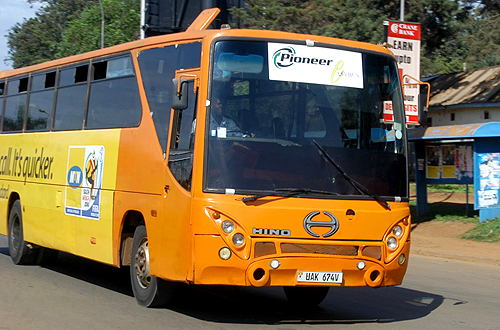 A meeting of stakeholders in the city bus operations has finally kicked off after an earlier hold-up at parliament this morning.
This is after a group of taxi drivers under the National Union of Taxi Drivers stormed parliament demanding to be part of the meeting.
The drivers led by the group's spokesperson Rashid Sekindi argue that they too are a key part of the transport sector and need to be represented in today's meeting.
They are also demanding that they be allowed to compete with the bus operators and not be sent out of the city.
The group of over 100 people had threatened to get violent, prompting the chairperson of the local governments committee investigating the Pioneer Easy Bus Company operations to give them audience before meeting the other stakeholders.
Hon Florence Kintu, has advised the drivers to put their concerns in writing and hand it over to Hon Muhammed Nsereko before close of business today and promised to have the matter discussed on Tuesday next week.
The operations of the buses have been delayed by queries into their contract and lack of coordination between KCCA and the ministry of transport, among other issues.
The ongoing meeting is being attended by all stakeholders including officials from PEB, the ministry of works and transport, and district leaders from Wakiso Mukono as well as Kiira town council, after which the committee will be expected to make a final report on the matter.