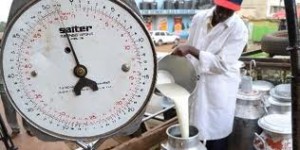 A nation-wide strike by milk transporters is underway.
The group under the Uganda National Dairy Traders Association says they have resolved to park their trucks unless government addresses their concerns.
They are protesting a new directive by the government to have all milk processed and packed.
The traders say the move by the government is unfair, because the milk processing companies want to buy from them at farm gate prices, meaning they cannot make any substantial gains.
The Association spokesperson Edward Butera says they have packed over 100 trucks across the country.
He says they will continue with the strike until the government responds positively.
The milk transporting industry directly employs about 900 people.