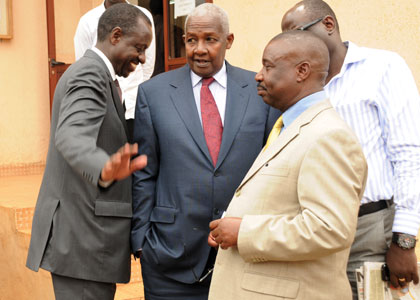 The Anti -Corruption Court has acquitted the 3ministers alleged to have misappropriated public funds during the Common Wealth Heads of Government meeting of any wrong doing.
The three include Sam Kutesa, John Nasasira and Mwesigwa Rukutana.
They had been accused of having held a meeting, during which they decided to fund the construction of a marina at Speke Resort Munyonyo, causing government a loss of 14 billion shillings.
The head of the Anti-Corruption Court Justice Paul Mugamba has however ruled that the prosecution failed to produce any evidence to prove the allegations.
He says no minutes were presented to show that the meeting was ever held and that all the 11 prosecution witnesses exonerated the 3 of any wrong doing.
Speaking to KFM, Mwesigwa Rukutana says he is going to sue the government for compensation for the damage done to his reputation.
John Nasasira on the other hand says he is happy that his name has been cleared and says he will not be seeking legal redress.