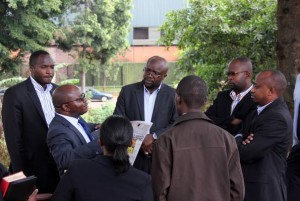 The story of the three journalists summoned to the CID is taking a new twist.
The police have now secured a court order compelling the journalists to produce a copy of the letter published in the Daily monitor.
The letter was written by the Coordinator of Intelligence Services Gen. David Sejusa calling for investigations into reports of planned assassination of army officers opposed to the "Muhoozi project".
The three journalists include the Acting Managing Editor Don Wanyama, and reporters Risdel Kasaasira and Richard Wanambwa.
However according to Don Wanyama, this will be challenged in court.
Wanyama says journalists have a right to protect the sources of their information.
The journalists were today appearing at the CID for the third time.