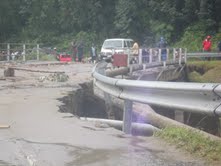 River Nyamwamba has burst its banks for the second time this week, causing more panic and fear in Kasese town.
The water levels have been steadily rising since 6:00am.
The Katiri Bridge on Nyamwamba River is on the verge of collapse following the early morning down pour that led to more flooding.
The Uganda People's Defence Forces together with St John's Ambulance have swung into action rescuing more people who had earlier refused to vacate Kasese town and Kilembe mine areas.
Some residents who had earlier insisted on remaining in the Nyamwamba valley have now started carrying away their property to run for safety.
The Mayor Kasese Municipality Godfrey Kabbyanga is also urging those who remained in the Kilembe valley and those whose houses were flooded in Kasese town to move to higher grounds.
The floods are hitting the areas of Acholi Quarters, Nyakasanga and Kizungu which were the most hit on Wednesday.
The floods also disrupted the Sunday prayers since some of the people could not cross the water to go to the various churches.
The incident comes just two days after floods hit Kasese town claiming the lives of 8 people while thousands have been displaced with no shelter or food to eat.