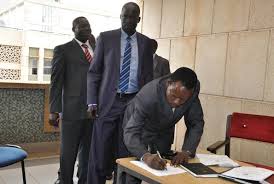 172 MPs have so far signed a petition to return the anti-gay law to parliament.
By mid-day the list shown by Kawempe North MP Latif Ssebagala showed Florence Mutyabule as the 172nd MP to sign.
Sebagala says they are making good progress with more MPs expressing willingness to sign the petition.
Kole county MP Fred Ebil says they want to convince MP's including Fox Odoi, Prime minister Amama Mbabazi , and the first Lady Janet Museveni to  also sign before they hand over the petition to the speaker.