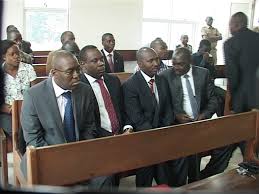 Efforts by the four NRM rebel MPs to retain their seats in parliament have again hit a snag.
This time at the Supreme Court, where they have filed an application seeking to block a recent court ruling ordering the speaker to throw them out of parliament.
Justice Bart Katureebe led a panel of seven judges include Benjamin Odoki said the necessary documents were not availed.
Justce Katureebe said that the MPs' application would be heard on Wednesday next week to give his colleagues time to study the case file and be able to rule on the matter more objectively.
The Constitutional Court last week ordered that the Speaker stops Theodore Ssekikubo, Barnabas Tinkasimire, Mohammed Nsereko and Wilfred Niwagaba from accessing Parliament pending determination of the main petition
The petition filed before the same court by the NRM party seeks to have their seats declared vacant having been expelled from the party on whose ticket they entered parliament.
Speaking to the media shortly after the Supreme Court postponed hearing of their application to suspend the order, the MPs' lawyer, Abdu Katuntu contends that the courts have placed Speaker of Parliament, Rebecca Kadaga in a difficult position and creating another class of legislators.
Katuntu says they will await the decision of the Supreme Court on the matter.