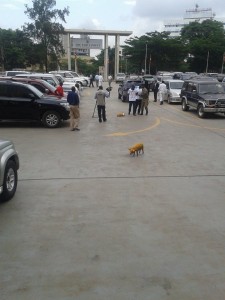 The two youths who breached parliament security recently and sneaked in with two yellow painted piglets have been re-arrested.
Norman Tumuhimbise and Robert Mayanja have been nabbed as they tried to address the press at the FDC youth offices at City House in Kampala.
According to the FDC youth league mobilizer Francis Mwijukye the two were explaining to the media why they entered parliament with the piglets.
They are reportedly being held at Central Police Station but the police spokesperson for Kampala Metropolitan Patrick Onyango tells KFM he is not aware of the arrests.
Last week the two youth were granted bail by city hall magistrate Erias Kakooza after being charged of criminal trespass, interrupting parliamentary proceedings and conspiracy to commit a misdemeanor.