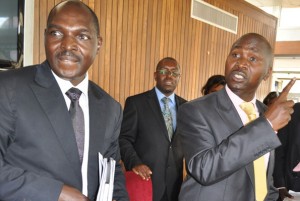 Some legislators have described as a joke, a decision by the Electoral Commission to set a date for the 4 NRM rebel MPs' replacement.
The Supreme Court today halted the ejection of MP Theodore Ssekikubo, Wilfred Niwagaba, Barnabas Tinkasimire and Mohammed Nsereko from Parliament, days after the Constitutional Court ruled otherwise.
Earlier today, the Electoral Commission announced that the by elections for the four positions, as well as Kampala Lord Mayor, will be held on the 17th of April.
Kalungu West MP, Joseph Ssewungu says the commission should have first waited for the court, adding that other organs of the state should stop undermining the judiciary.