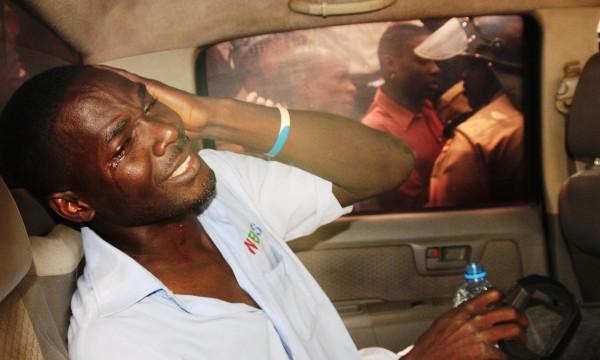 The Uganda Parliamentary Forum on media has joined growing voices to condemn the manner in which police beat up journalists on Monday.
Television journalist Andrew Lwanga and several others were beaten up by police while they were covering protests by the unemployed youth group.
Addressing the media at Parliament today, forum members Mariam Nalubega, Dr. Lulume Bayiga and Peter Okeyo said the police have continually violated the rights of journalists in their line of duty without punishing its officers.
They are now planning to petition the House when it resumes next month to debate the conduct of police, as well as criteria for training and recruitment.
The minister of state for regional cooperation Okello Oryem has added voice to those condemning the police brutality on journalists.
Addressing journalists earlier today, Oryem said this was wrong and unfortunate.
He however asked journalists not to fear but continue serving the country objectively.
Meanwhile, senior police officers led by the spokesperson Fred Enanga have today television journalist Andrew Lwanga, at Nsambya hospital where he was admitted for treatment after he was assaulted one of their own on Monday this week.
Meanwhile, group of seven lawyers from different law firms Nicolas Opio and Medard Ssegona have offered free legal services to the assaulted journalist.The group includes: Nicolas Opio, Cathy Anite, Edgar Muvunyi Tabaro, Deogratius Odokel Opolot, John Murungi Amooti, Gimara Francis and Medard Ssegona.
Mr Andrew Lwanga, a photojournalist with Wavah Broadcasting Services (WBS)televisionwho is currently admitted to Nsambya hospital with severe pain in the stomach, head and blurred vision was hit by Old Kampala DPC Joram Mwesigye.