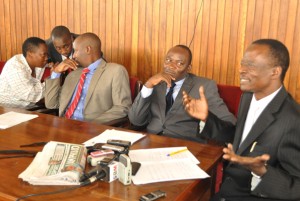 A section of members of parliament is petitioning the Speaker and the Uganda Law Society over the conduct of the Attorney General.
Addressing journalists at parliament, the MPs including Ibrahim Semujju Nganda, Betty Nambooze, John Ken Lukyamuzi and Gerald Karuhanga accused the Attorney General Peter Nyombi of undermining the rule of law following his statements against High Court Judge Justice Yasin Nyanzi.
The MPs say it is unfortunate to see him support government to disobey an order that stopped any acting on a tribunal report under challenge before court.
They now want the Attorney General investigated and suspended indefinitely from the Uganda Law Society executive.
The Attorney General Peter Nyombi insists the Judge made the ruling in error insisting that Erias Lukwago is no longer the city lord mayor.