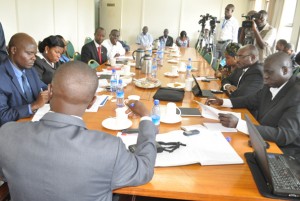 Parliament's defense committee has welcomed government's willingness to be part of an African Union standby rapid response force.
This comes a day after Foreign Affairs Minister Sam Kutesa told journalists in Kampala that Uganda will contribute to AU in form of troops before adding that other countries will make their contributions inform of cash and other logistics.
Speaking to Kfm, the committee's vice chairperson Peter Eriaku said this would help further consolidate stability and peace of the region since implementation of a proposed continental standby force had delayed.
He says Uganda has already shown ability to respond to emergencies and so can head the standby force .
The government has offered to contribute troops to the African Union standby rapid response force intended to prevent or intervene in conflict across the continent.