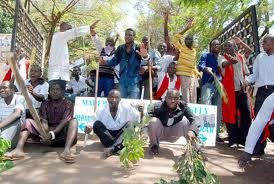 The police has fired teargas to disperse Makerere University Business School students who have staged a demonstration over the death of their colleagues.
The two were among the five pedestrians knocked yesterday by a speeding commuter taxi.
The duo died instantly while the three were rushed to Mulago hospital in critical condition.
The angry students are demanding that a zebra crossing be put at the spot where their colleagues were knocked at Nakawa along Jinja Road.
They have now blocked the road slowing down traffic with some city bound motorists forced to divert to Ntinda industrial area.
The police led by the officer in charge of Nakawa police post John Turizama has been called in to quell any violence that may erupt as the students paint a Zebra crossing.