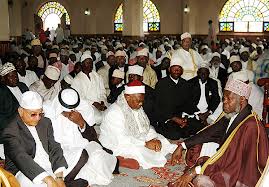 The call for peace is today's Eid message from the Mufti of Uganda, Sheikh Shaban Ramadha Mubajje.
Speaking at Eid-El-Fitr prayers held at the National Mosque at Old Kampala today, Sheikh Mubajje urged Muslims to promote peace and the same time pray for countries currently embroiled in war.
He further called on the faithful to remain holy after Ramadhan and observe the fast during Sitat so that they are rewarded abundantly by Allah.
The faithful were also asked to give to the needy, as well as avoid recreational areas that may tempt them to sin.
In the same breath, Sheikh Mubajje has lauded government's move to return properties belonging to Buganda Kingdom.
Hundreds thronged the fully packed mosque, notable among them Kampala MP, Mohammed Nsereko.