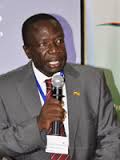 Makerere University Council is locked up in a crisis meeting to try and resolve the impasse at the Ivory Tower.
The emergency meeting was called this morning by the council chairperson Dr. Charles Wana-Etyem to discuss the ongoing strike by the lecturers.
The meeting is closed to the media but according to the public relations office, the outcome is expected to be communicated as soon as it ends.
The Makerere University Academic Staff Association went on strike last week demanding for a 100% pay rise.
They have vowed not resume work until their pay concerns are addressed conclusively.
Meanwhile, the university has often indicated that it is financially constrained, seeking government's help to address the problem of lecturers' pay.