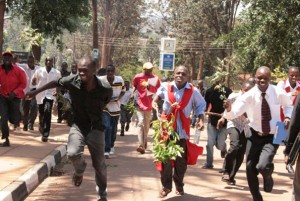 A group of Makerere University students has this morning stormed the senate building demanding that their names be included on the graduation list.
The group of over 30 students was led by the guild president Anne Adeke.
Now the university administration has asked student leaders to compile a list of all the missing names to help rectify the problem.
The university spokesperson Ritah Namisango says the list compiled by the registrar only has the names of those students who fulfilled university requirements before 15th January.
She says the university will look into the student's complaints after getting a formal list from their leaders.
This comes just one week to graduation day.
The 64th graduation ceremony is slated for January 28th to 31st.