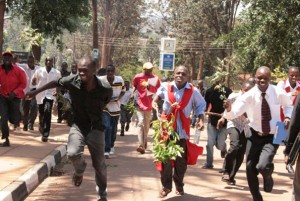 Calm has returned at Makerere University following a demonstration by students over poor meals earlier today.
Students from Nsibirwa were at it again this afternoon.  They stormed the dean's office this afternoon demanding an explanation for being fed on Posho and beans instead of rice and chicken.
The dean  Cyriaco Kabagambe has now commissioned an inquiry into the services offered by the caterer.
The student's guild president Ivan Bwowe says he is optimistic that the administration and students leadership will handle the situation.