David Mafabi & David Kazungu
Mbale: The police in Mbale town have been seen guarding President Museveni's campaign agents who are reportedly distributing money to his purported supporters to woe them against former premier AmamaMbabazi.
Mbabazi is scheduled to address a consultative meeting tomorrow.
The deputy commander anti-riot police for Bukedi region Sam Omallahas led a team that includes Elgon region police commander Jacob Opolot, spokesperson Diana Nandawula and several plain clothed security operatives who watched on as Museveni agents distributed Shs 20,000 to each person who turned up at Mbale sports club.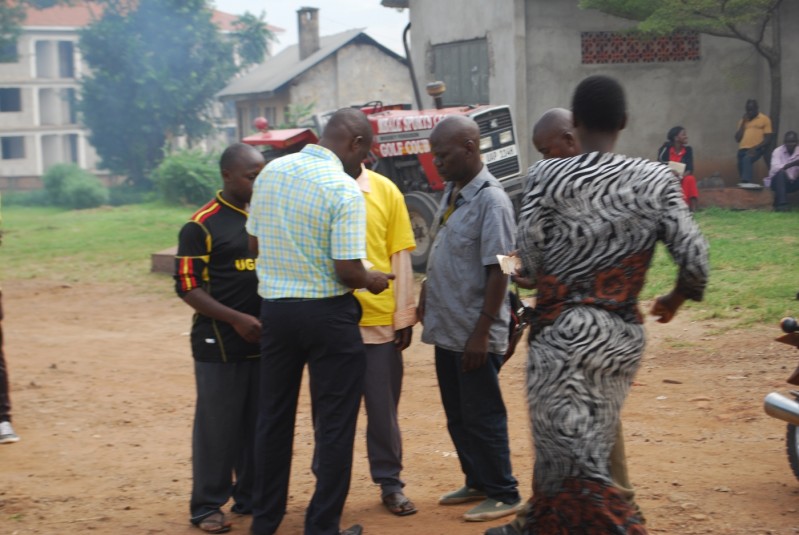 Abudallah Naleka who last week hood winked police in Museveni wear to dodge their interruption as a group of Mbabazi supporters met to discuss his visit to Mbale was an architect of this money distribution.
While addressing a crowd of over 300 people, Naleka said he was invited to state house by president Museveni at the weekend and asked to stop drumming up support for Ex-premier Mbabazi.
When asked to comment on police presence at this money distribution center, Diana Nandawula who is the Elgon Region Police Spokes Person explained that they had been tipped off by their agents that the
Mbabazi group had gathered at sports club and were distributing his campaign materials.
She however denied press questions as to why they had watched on as the group distributed money saying there was no proof that the money being distributed was Museveni's to stop Mbabazi's visit to Mbale.