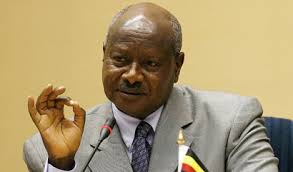 Investors without big money have no place in Uganda.
President Yoweri Museveni says he does not want investors with little capital in Uganda because they do not add any value to the country's economic growth.
Speaking at the ongoing Investors Forum at the Sheraton Kampala Hotel, Museveni said Uganda has got enough poor investors and it is only logical to shut the door on international paupers.
He adds that having rich investors helps to boost revenue collections and job creation among others benefits
The President has however assured all investors of a conducive economic environment through provision of the fundamentals for economic growth.
They include right legal frameworks, large consumers, infrastructure, and right micro economic framework among others.
He has also encouraged investors to take interest in energy and tourism sectors which still have great potential.
The Investors' Forum organized by the Uganda Investment Authority has attracted thousands of investors both local and international to discuss investment opportunities in Uganda with focus on the Oil and Energy sectors.